Posted August 18, 2023
On August 14 we celebrate World Lizard Day. These are a fairly large group of vertebrates with thousands of species and with quite peculiar characteristics. Do you want to know what they are and why are they so interesting? Keep reading to learn more about them.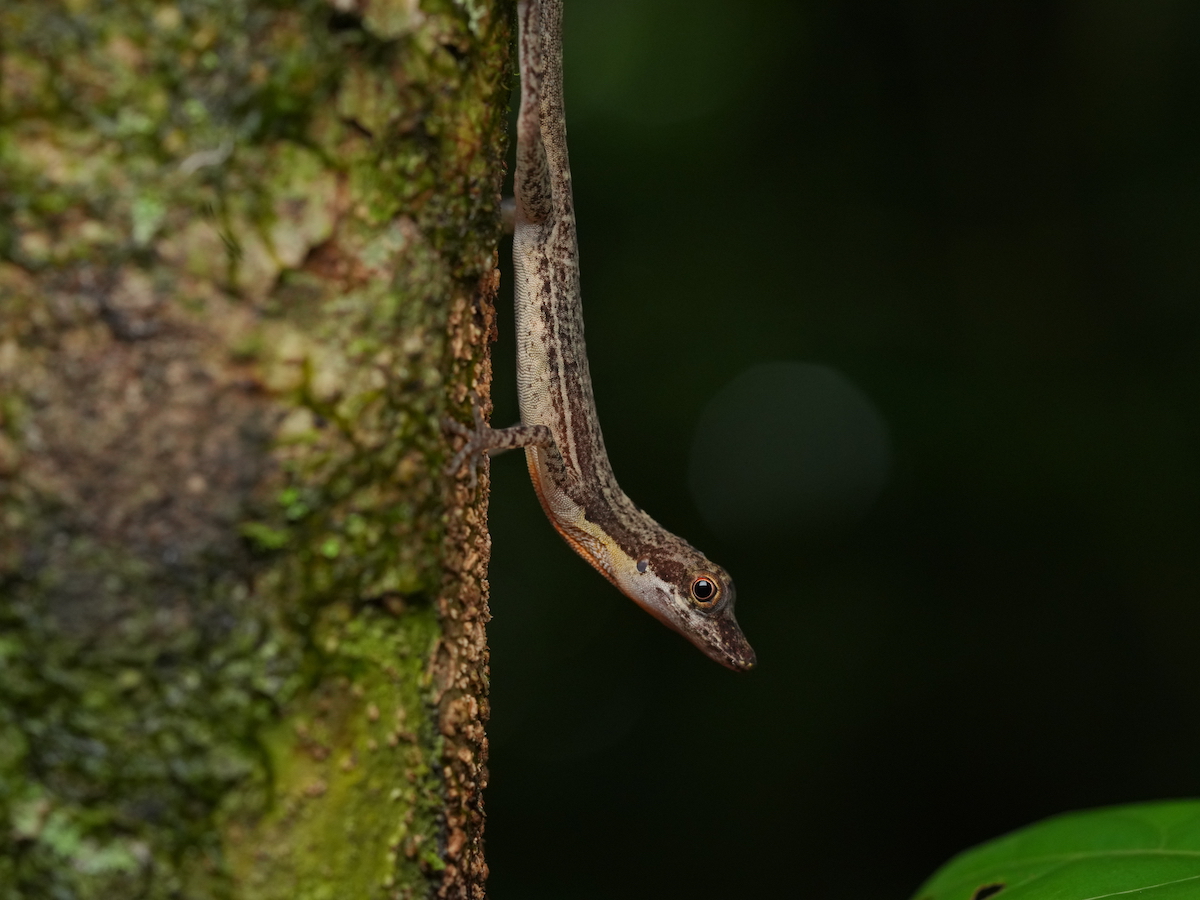 ---
Lizards are a big and widespread group of reptiles that belong to the order Squamata. There are around 12,000 species and live across the world except in Antarctica. Lizards are scaly-skinned reptiles that are distinguished from snakes because they possess legs, movable eyelids, and external ear openings. However, some species of lizard's lack one or more of these features. Lizards are by far the most diverse group of modern reptiles in body, shape, and size. Representatives of some families are limbless and resemble snakes, whereas may be outfitted with a wide array of ornamentation such as extensible throat fans and frills, throat spines, horns or casques on the head, and tail crest.
---
Lizards have a diverse range of habitats, from underground warrens and burrows to the surface and elevated vegetation. Some are slow, move with caution and rely on cryptic coloration for protection, whereas others can run fast across. Small species such as geckos, not only have colonized islands but also invaded cities around the world. Hemidactylus species are common in houses and buildings that most people know more about it. They appeared to do very well living with people in disturbed areas but did not seem to invade undisturbed habitats.
Ecological role
The role of lizards in human ecology has been poorly studied. Some are sources of food and clothing or agents of pest control, whereas other are pests. Larger lizards such as the iguanas (Iguana iguana and Ctenosaura similis for example) of México, Central America and South America are eaten and are important food source form some communities. However, I. iguana is considered an invasive species in Florida, United States. Monitor lizards and tegus (family Teiidae) are harvested for their skins, and these have a major effect on local economies of rural areas.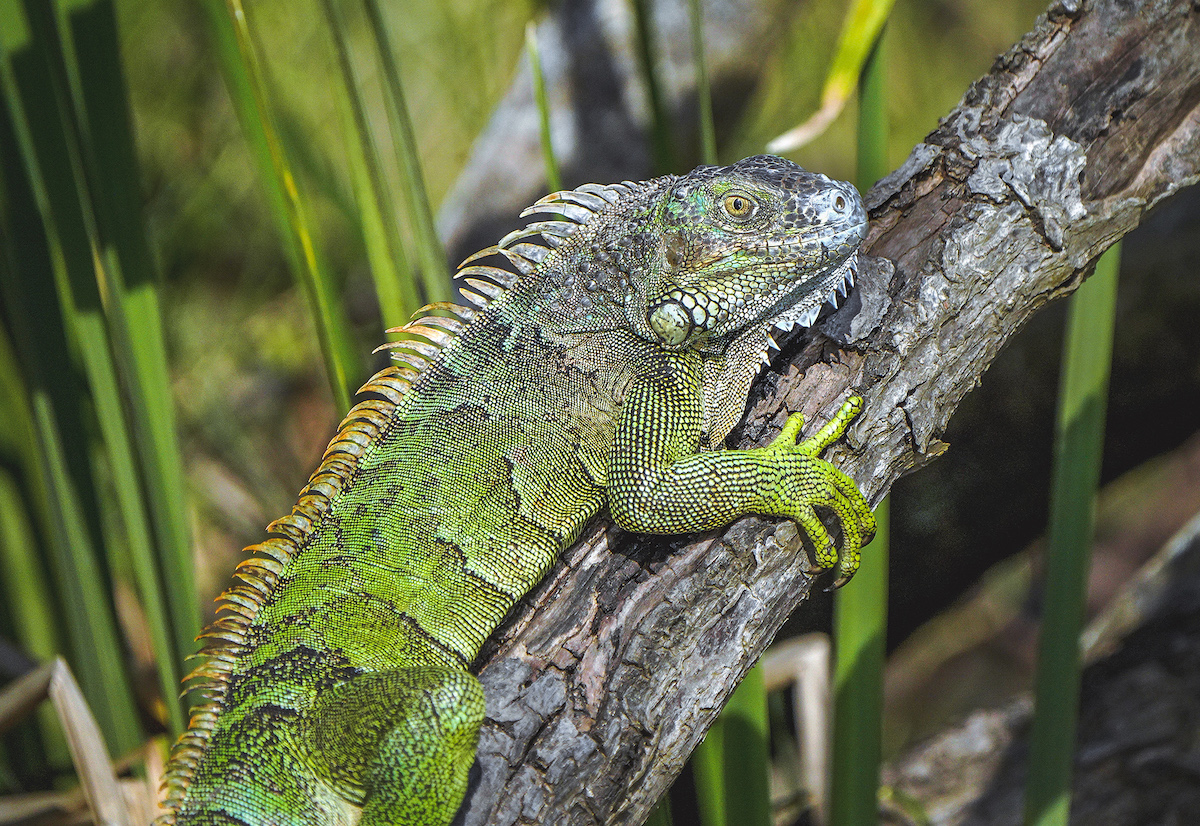 ---
Breeding habits and diet
Lizards spend considerable time obtaining food, this means that they have a predatory behavior. Usually they are insectivores, but many also consume small vertebrates and at least some plant material. Strict herbivory has evolved independently in some groups. Despite that, lizards eat many insects and other vertebrates particularly in tropical areas. That's why they are cataloged as insect-controlled species. Iguanian lizards, anoles, chameleons, and others are considered predatory lizards and tend to perch motionless at familiar sites and wait for prey. Predatory lizards can often pray farm animals or steal chicken eggs, thus affecting the livelihoods of local farmers.
Defensive strategies
In response to predation, lizards have a variety of defensive strategies including running and climbing, venom, camouflage, tail autonomy, and reflex bleeding. When danger threatens, some move into small crevices and puff up their bodies to make their extrication difficult. Spiny-tailed lizards move into crevices and leave only a sharp tail exposed. Other lizards extend a throat frill that frames its neck and head to intimidate intruders, this frill is almost as wide as the lizard's long. In addition, many lizards break off their tails automatically and easily. The broken-off section wriggles rapidly and often distracts the predator as the tailless lizard scurries for cover. The tail is often regenerated quickly.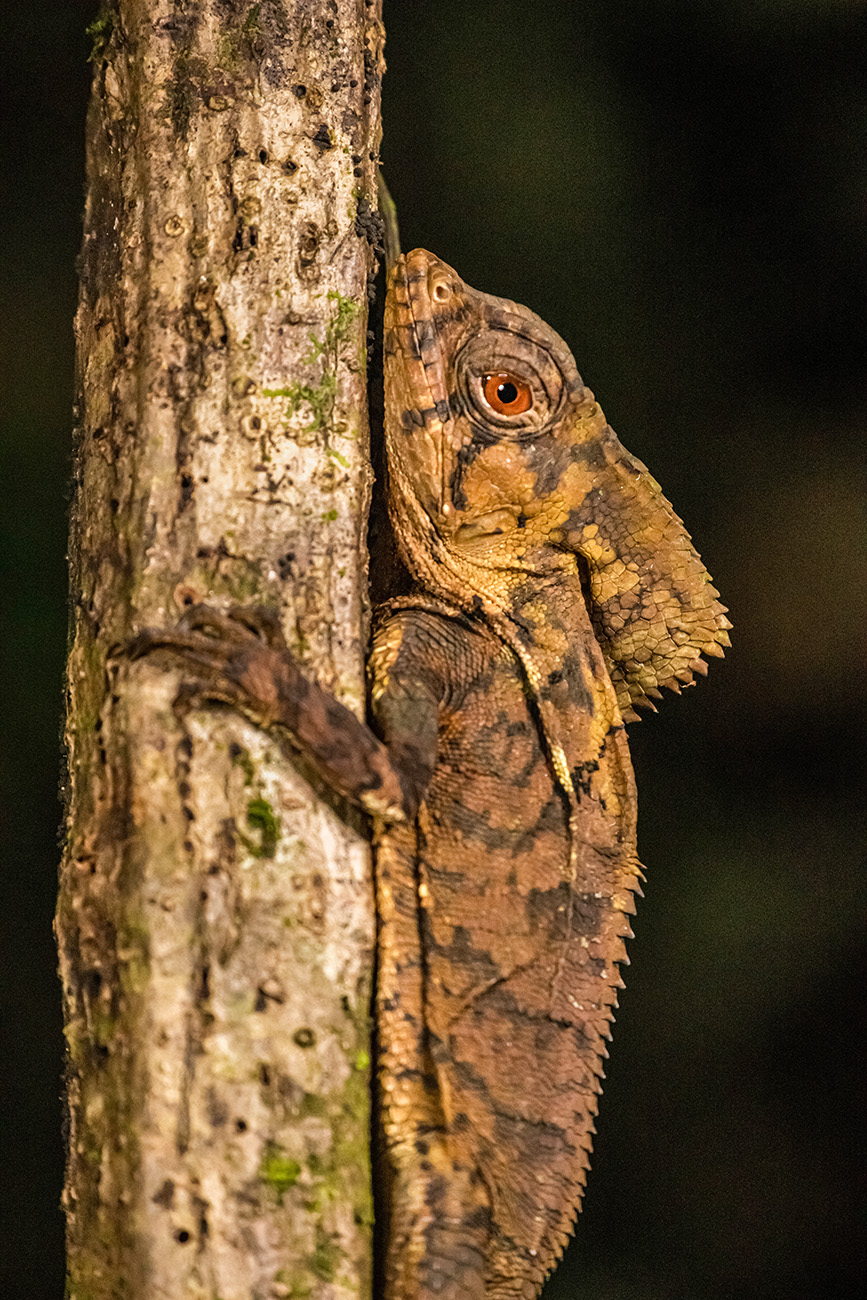 ---
Thermoregulation
Like fish and amphibians, lizards are ectothermic, receiving the heat from their surroundings. Most lizards are active during the day, and some are active at night. As ectotherms, they have a limited ability to regulate their body temperature and must seek for sunlight to gain heat and become fully active. This mechanism also allows the lizards to maintain their ideal body temperature for optimal mobility and can be beneficial in the short term as it allows the ability to buffer environmental climate change.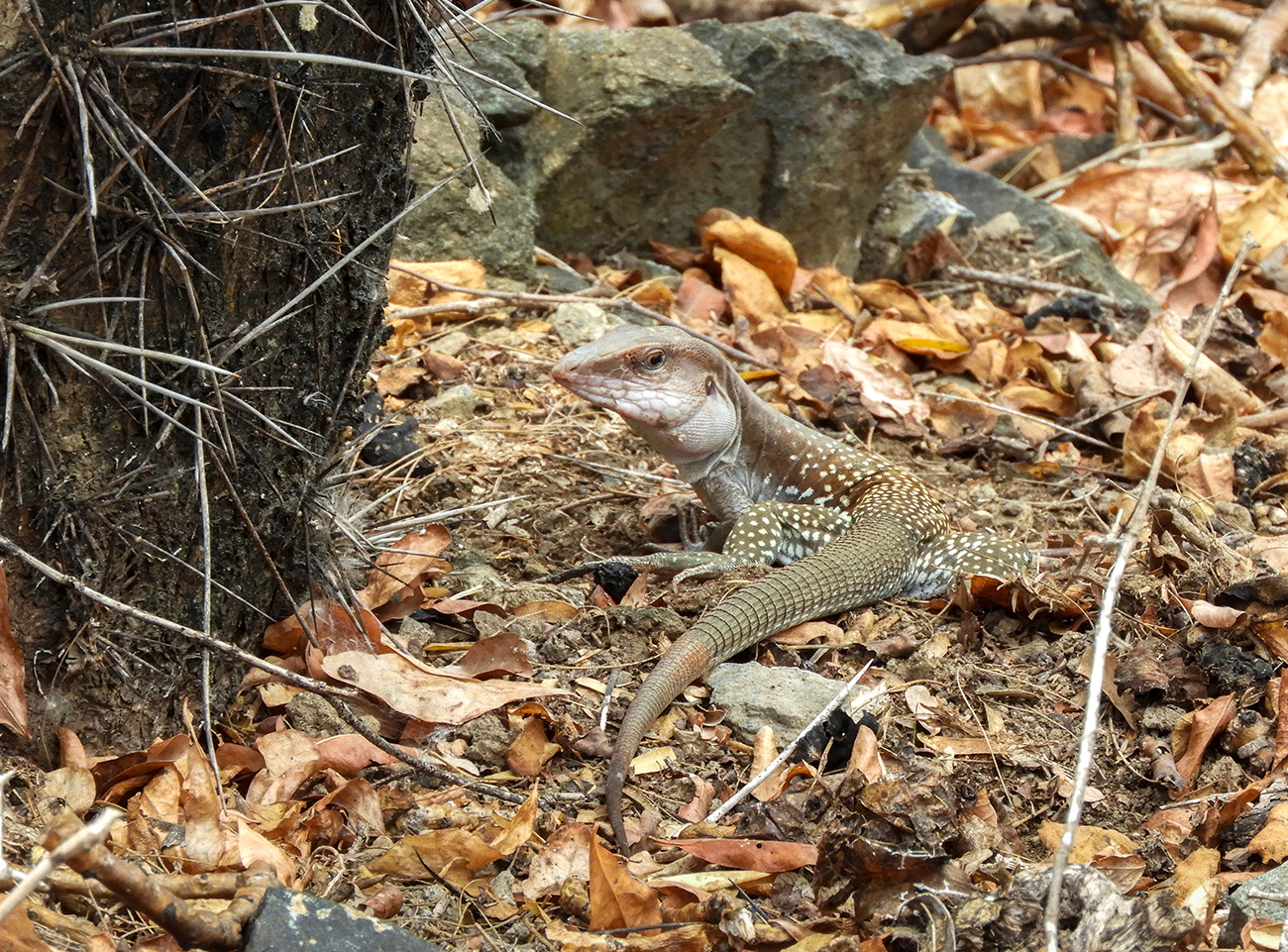 ---
Scales and changes in coloration
Most lizards are completely covered in scales, except for the nostrils, mouth, eyes, and cloaca. Scales may be smooth and overlapping forming a mosaic of flat plates or have keels or tubercles. The arrangement varies among species and by body part. The outer part is composed of dead tissue made up of keratin. This is shed at intervals and is replaced by new cells in the deep part of the epidermis. Most lizards can change their coloration. The most notable groups are chameleons and the anoles. Some change from bright green to deep brown and the patterns such as lines and bars may appear and disappear. The melanophores are the pigment cells that allow them to change in color and regulate the concentration of the pigment. The coloration is controlled by multiple interactions and causes between the hormones, temperature, and the nervous system.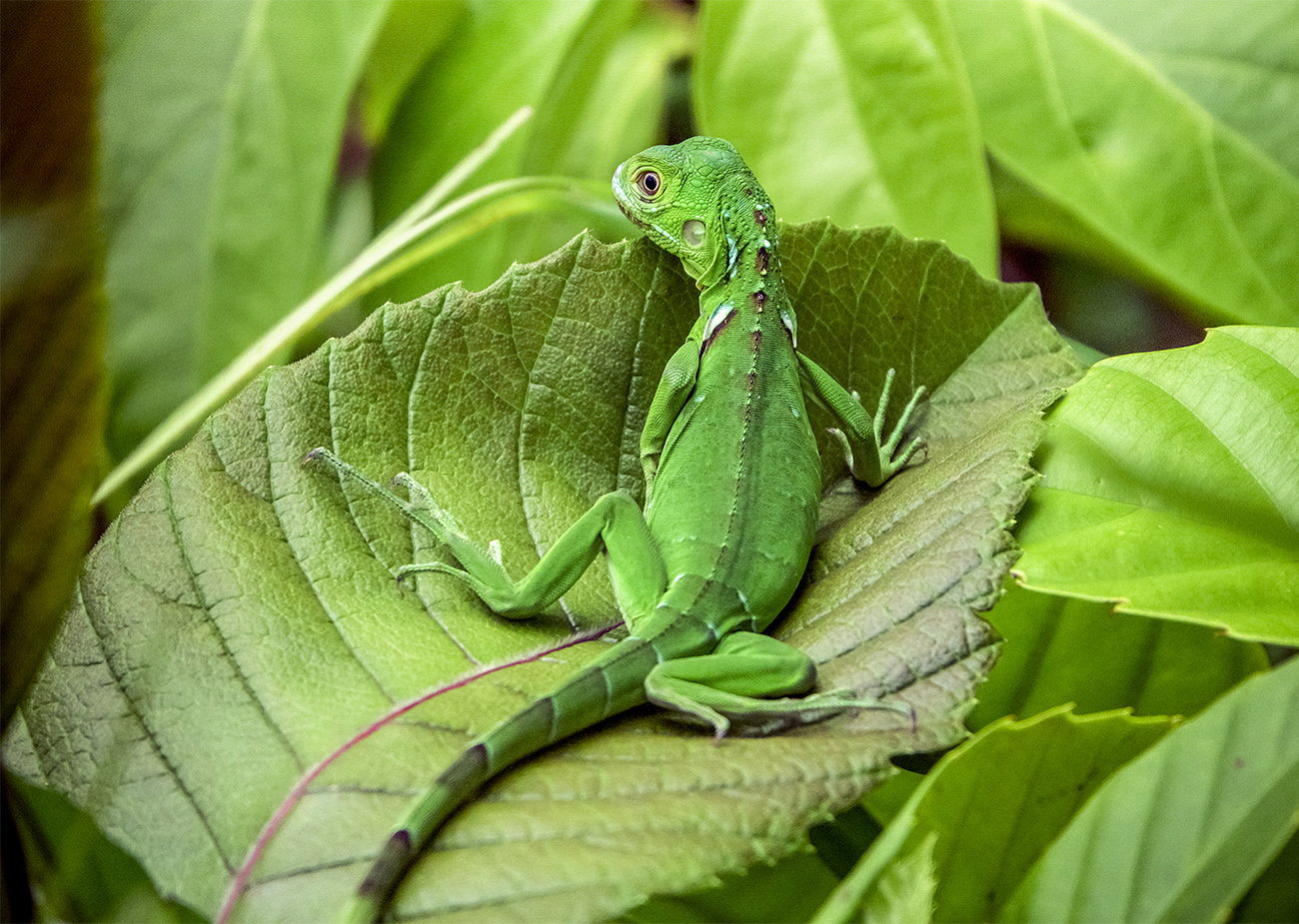 ---
For many reasons lizards are valued as subjects for biological research. They have different modes of reproduction and the ability to regulate body temperatures are areas of interest. The ability to regenerate broken tails has led to their use as research subjects too. For these and other multiple reasons it is crucial to consider lizards as important creatures in our world.
Bibliography
LUNA-REYES, Roberto, CANSECO-MÁRQUEZ, Luis, and Efraín HERNÁNDEZ-GARCÍA
2013
Los Reptiles. In La biodiversidad en Chiapas: Estudio de Estado. Comisión Nacional Para el Conocimiento y Uso de la Biodiversidad (CONABIO) y Gobierno del Estado de Chiapas, México.

KÖHLER, Gunther
2003
Reptiles of Central America. Herpeton, Verlag Elke Köhler.

MCDIARMID, Roy W.
2012
Reptile Diversity and Natural History: An Overview. In McDiarmid, Roy et al. (editors) Reptile Biodiversity: Standard Methods for Inventory and Monitoring. University of California Press, Page 13.

HUEY, Raymond B. and Montgomery SLATKIN
1976
Cost and Benefits of Lizard Thermoregulation. The Quarterly Review of Biology, Vol. 51, No. 3, Pages 363 – 384.

REILLY, Stephen, MCBRAYER, Lance and Donald B. MILES
2007
Lizard Ecology. Cambridge University Press, Cambridge.

Written by Flor Morales Arroyo.