Howler monkeys are easy to find in Guatemala
At Tikal, Yaxha, and most areas of Peten you can find both spider monkeys and at least one species of howler monkey. In many places in Alta Verapaz howler monkeys can be heard in the hills surrounding the towns (such as Chisec). The presence of howler monkeys so close to densely populated areas is in part because of the karst geology. You get a lot of small steep hills which are tree covered. Because the karst formations are tall and steep, local Q'eqchi' Mayan people do not use them for slash-and-burn milpa agriculture. So the trees and never cut down and thus can house wild howler monkeys.
One day we found a howler monkey on the nickel mining factory grounds of Exmibal, Izabal. Ironic since mining companies remove the entire eco-system with bulldozers.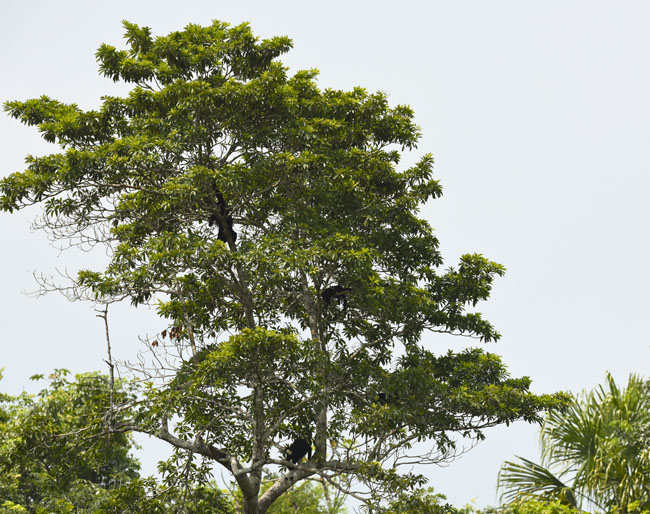 ---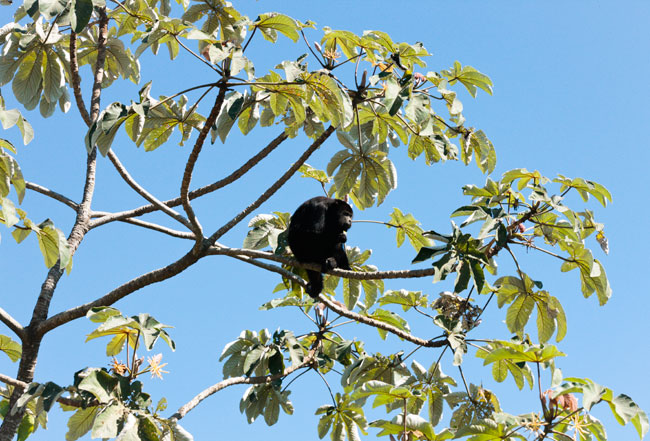 ---
It is stated that howler monkeys do not jump (it is stated that they only walk along branches and rarely even swing from tree to tree). Yet there is an unexpected photo of a howler monkey flying through the air (www.bioexpedition.com/howler-monkey).
Unfortunately the entire photo is underexposed so the howler is so solid black you can't see any detail.
Howler Monkeys do not make good pets (but are still captured)
Seemingly howler monkeys do not make good pets. They die in captivity. Indeed many zoos do not even have howler monkeys on exhibit. So local people do not often shoot howler monkey mothers in order to capture and sell the babies!
Considering the lack of howler monkeys in most zoos of Guatemala (all of which have lots of spider monkeys), I am always surprised how close howler monkeys come to people's camps and to hotels.
At Las Guacamayas Biological (Research) Station, along the Rio San Pedro Martyr, El Peten, there are lots of howler monkeys which come close to the comfortable lodge there.
At Posada Caribe, along the Arroyo Petex Batun, near Sayaxche, El Peten, the howler monkeys come to trees inside the hotel area.
Obviously at the Parque Nacional Tikal and Parque Nacional Yaxha Nakum Naranjo you can also experience howler monkeys. Plus you can experience both spider monkeys and howler monkeys in the trees overhead at Hotel Ecolodge El Sombrero, at the entrance to the Yaxha park.
For Tikal doing photography with a tripod requires appropriate permits, plus a permit to be in the ruins before or after normal opening times (since howler monkeys don't always keep normal hours).
Since Costa Rica has no monumental ruins of past cultures, the country of Costa Rica uses its jungle frogs and national parks to attract tourists. We at FLAAR would like to work more with the tourism department and government agencies in Guatemala to promote the gorgeous birds, the remarkable mammals, the reptiles, and the impressive butterflies and moths to encourage more people to visit Guatemala.
Tips on how to photograph howler monkeys?
Howler monkeys are black, so tough to photograph. Howler monkeys are high in trees, but with a telephoto lens you still have all the branches and leaves to contend with.
We will be preparing FLAAR Reports on "how to (improve your) photography of monkeys."
Two species of howler monkeys inhabit Mesoamerica
Two howler monkey species can be found in Guatemala and Mexico
| | | |
| --- | --- | --- |
| Scientific Name | Local Spanish Name | English Name |
| Alouatta Palliata | | Mantled Howler Monkeys |
| Alouatta Pigra | Mono aullador, saraguato | Guatemalan Black Howler or Yucatan Black Howler Monkey |
---
A list of all other howler monkey species elsewhere in Latin America is in a book by Miguel Martin Kowalewski, Patterns of Affiliation and Co-operation in Howler Monkeys…
FLAAR annotated bibliography on Howler Monkeys of Yaxha and Tikal
Our full bibliography is being prepared, and when ready will be on our "bibliography web site",
www.maya-art-books.org.
In the meantime, here is a web site with monograph style information, all professionally cited: www.iucnredlist.org/details/914/0
http://academic.regis.edu/ckleier/Belize/Howler_Monkey.pdf is a scientific article on Black Howler Monkey of Belize.
We found the rare mantled howler monkey in the Municipio de Livingston
In June 2021, the team of FLAAR Mesoamerica found and photographed an extremely rare mantled howler monkey, Alouatta palliata, on a tree hanging over a creek flowing into Rio Dulce, Municipio de Livingston, Izabal, Guatemala. We will publish the photographs by David as soon as possible.
Most recently updated: July 12, 2021.
October 1, 2018
First Posted late August 2015