Muscovy duck comes in black and white or white with black
But no other "duck-like colors," so no reds (other than on head).
Jim Conrad reports that "Back in the 70s when I accompanied Maya-ruin-visiting tourists on boat trips up and down the Usumacinta River between Guatemala and northern Chiapas I used to see black, fast-flying Muscovies who undoubtedly were wild stock." These field trips were organized by FLAAR and we were the lecturers for archaeology, ethnohistory and architecture; Conrad was the lecturer for flora and fauna (www.backyardnature.net/chiapas/muscovy.htm)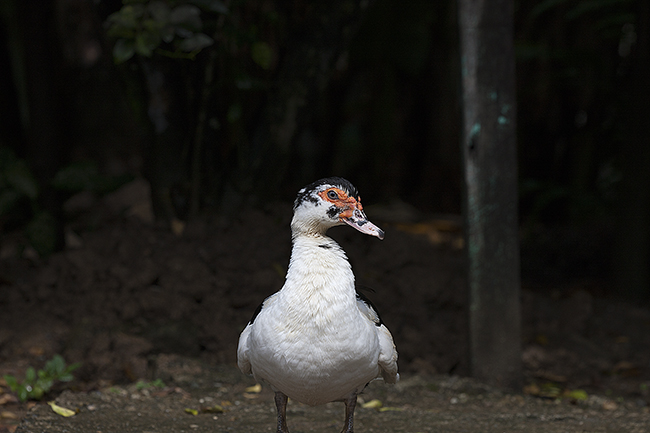 ---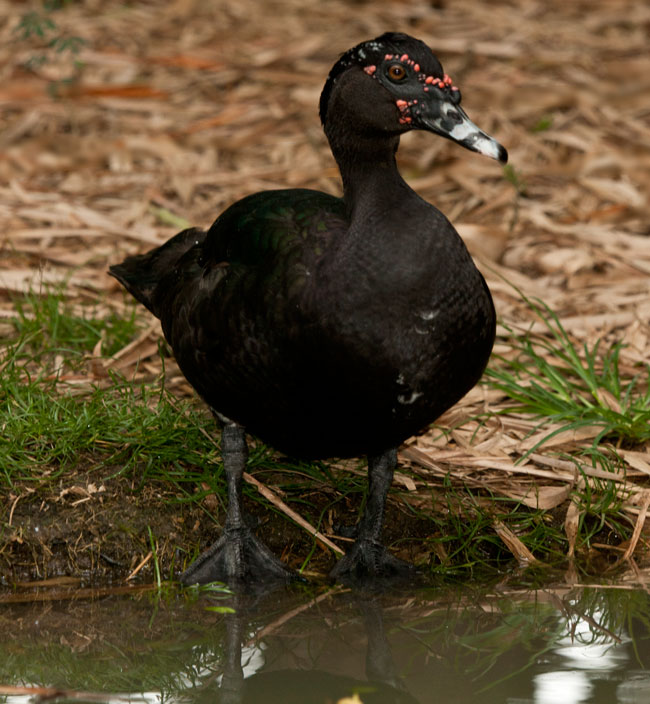 ---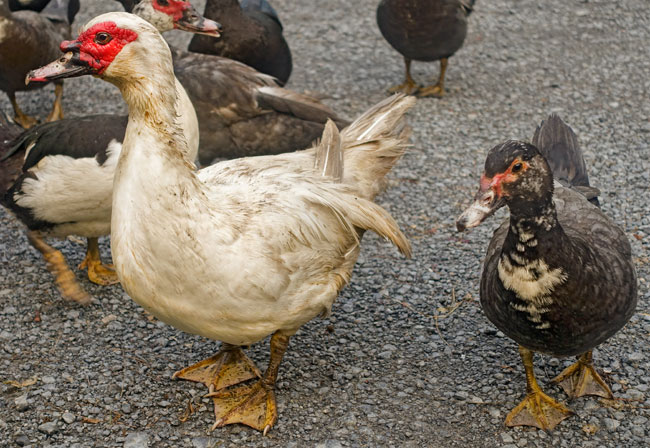 ---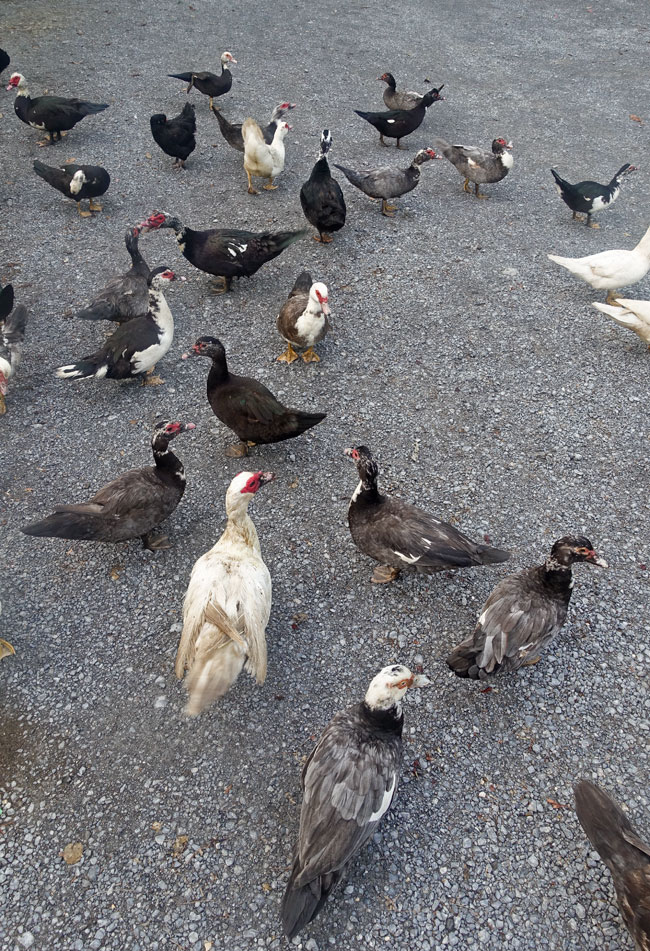 ---
The following creatures were domesticated by the Maya before the arrival of the Spanish:
Turkey, Meleagris gallopavo gallopavo, documented from El Mirador (but not the wild species, occelated turkey, Meleagris ocellata).
Dog, canis canis (unclear how many separate species, since at least one was hairless and "barkless").
Honey bee (more species than I can remember exist; how many were domesticated is a good case for a thesis or dissertation).
Cochinilla insect for red dye colorant, Dactylopius coccus.
Another totally different genus of insect for varnish, Llavela axin.
So three insects and two animals.
Most authors say the Muscovy duck, Cairina moschata was brought to Mesoamerica from Peru, so should be removed from lists of domesticated Maya animals until archaeologists can find bones from Classic sites which can be proven to be from domesticated ducks).
What about domesticated deer?
I am not convinced that the Maya fully domesticated the deer. They would have kept baby deer as pets; and we know there were areas where deer were not killed hence were tame, but I am not yet convinced that deer were "domesticated." Same for scarlet macaws: part of village life (of the Cholti Lacandon) but not domesticated in a technical sense.
What about a domesticated dove?
Morley lists the dove as a domesticated species (442) based on observations by Landa among the Yucatec Maya. I would want to see more evidence, since we have already noticed that the Maya had tame deer but that does not make deer domesticated.
What about the guinea pig?
The guinea pig and other animals which were domesticated in Peru and elsewhere in South America were not present in Mesoamerica.
Ducks are presented in 3-Dimensional form as lid handles on pottery
Many Early Classic Maya vessels show ducks or duck-like birds as lid handles. Some basal flange bowls show ducks painted on the sides. Since there are dozens of species of ducks, grebes, and other duck-like birds in Mesoamerica, it would take more research to identify which species is being portrayed in the archaeological artifacts.
ANDERSON, E. N. and Felix MEDINA Tzuc
2005
Animals and the Maya in Southeast Mexico. University of Arizona Press. About 257 pages.

ANGULO, E. G.
1998
Fibre content of feeds in relation to growth and feeds conversion indexes in the Muscovy duck (Cairina moschata domestica L.). Annali della Facolta di Medicina Veterinaria di Pisa. 41: 175-182.

BAGLIACCA, M., PACI, G. and C. F. AVANCI
1988
A guide of the birds of Mexico and Northern Central America. Oxford University Press, New York. 851 pages.

CARLOS, A. B.
1990
Perfomance of muscovy (Cairina moschata) ducks fed suplementary diest containing three levels of protein under forescatel-yard of conditions. Colege, Laguna (Philippines) 69 pages.

DONKIN, R. A.
1989
The Muscovy Duck, Cairina moschata domestica: origins, dispersal, and associated aspects of the geography of domestication. Rotterdam: A. A. Balkema.186 pages.

HELLMUTH, Nicholas
n/a
The Niij Domesticated insects were part of the Mayan civilization. REVUE, pp. 68, 70

LAMBIO, A., ARBOLEDA, C. and HUBILLA, P.
1992
Water mist spraying on the hatchability of Muscovy duck (Cairina moschata) eggs. Philippne Journal of Veterinary and Animal Sciences. V.18(3): 249-253.

LEONARD, J. A., WAYNE, R. K., WHELEER, J., VALADEZ, R., GUILLEN, S., and C. VILA
2002
Ancient DNA evidence for Old World origin of New World dogs. Science 298, 1613–1616.

MALLIA, J. G.
1998
Indigenous domestic turkeys of Oaxaca and Quintana Roo, Mexico. Animal Genetic Resources Information 23: 69-78.

MALLIA, J. G.
1999
Observations on family poultry units in parts of Central America and .sustainable development opportunities. Livestock Research for Rural Development (11) 3 1999.
www.lrrd.org/lrrd11/3/mal113.htm or

www.cipav.org.co/lrrd/lrrd11/3/mal113.htm


Not much information, and no photographs.

ORTIZ G. S.
2009
El pato Muscovy Cairina moschata. X Simposio Iberoamericano sobre conservación y utilización de recursos Zoogenéticos.

TAKAHASHI, S., SATO, H., YAMADA, T., TAKENOUCHI, T., NAKANO, K. and H. SALTO
1996
Outbreaks of fowl cholera in Muscovy duck (Cairina moschata) on at farm in Aomori Perfecture. Journal of Veterinary Medical Science. 58 (3): 269- 272 .
Most recently updated June, 2016
First posted August, 2014