Posted May 20, 2018
Pollinators are important for all people around the world. So we at FLAAR (USA) and FLAAR Mesoamerica (Guatemala) are developing projects to assist local people to understand how many creatures are pollinators (much more than just bees).
That said, bees are still the most common and most noticed. So although lots of beetles, flies, butterflies, moths, bats and arboreal mammals such as mico leon (Potos flavus) are also pollinators, it is most realistic to start the message of Save the Bees, Butterflies and Bats.
Here are snapshots of a jaboncillo flower stack with two different bees or bee-like insects. As you will see with the next post, mosquitos (or mosquito-like flies) also visit the same flowers.
We noticed this several months ago on other flowers: many species of bees plus the mosquito-like insects were all happily seeking nectar on the same flowers at the same time of day. The plant's botanical name is Phytolacca icosandra.
Since the flowers are blowing in the wind it's tough to focus before the pollinator flies away, but here are the snapshots we were able to get. Nikon D5 camera, AF-S Micro NIKKOR 60mm f/2.8G ED lens. Photo by Nicholas Hellmuth, FLAAR.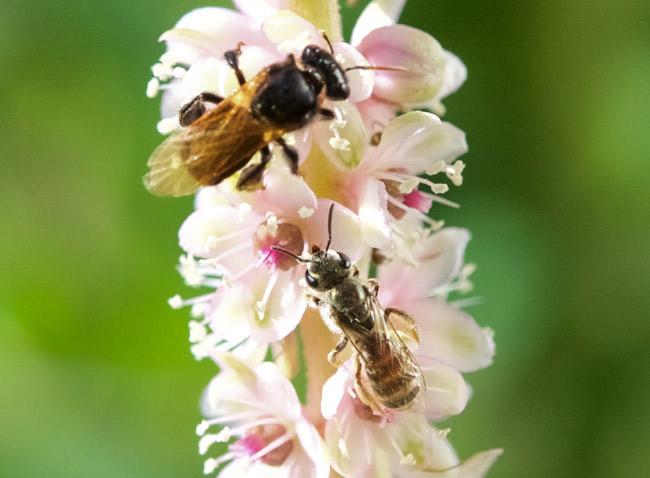 ---