Crocodiles are not just in the Nile river and not just in Africa: lots in Guatemala.
Lots of baby crocodiles in Savanna #13, Parque Nacional Laguna del Tigre
While hiking to tasistal savannas in the far southeast part of Parque Nacional Laguna del Tigre (PNLT) we found close to a dozen young crocodiles in a pond in the middle of Savanna #13. This pond had a lot of white water lily plants and flowers, Nymphaea ampla. Since it was almost 40 degrees Celsius (in the shade, 104 degrees F; over 50 degrees Celsius in the sun, 122 degrees F) the pool of water was drying up during March and April.
We have not often seen large mature crocodiles in the savannas; but they are probably pretty good at hiding. Their offspring have a lot to learn to survive.
We show these small crocodiles here. Their head was only about 2 inches long. Sometimes they were out of the water on top of the mud, but usually they were floating in the water with just their eyes visible above the water. One also had its tail above water.
Coming from the USA, it is logical to estimate these are alligators; but no, these are crocodile, Crocodylus moreletii, Morelet's crocodile.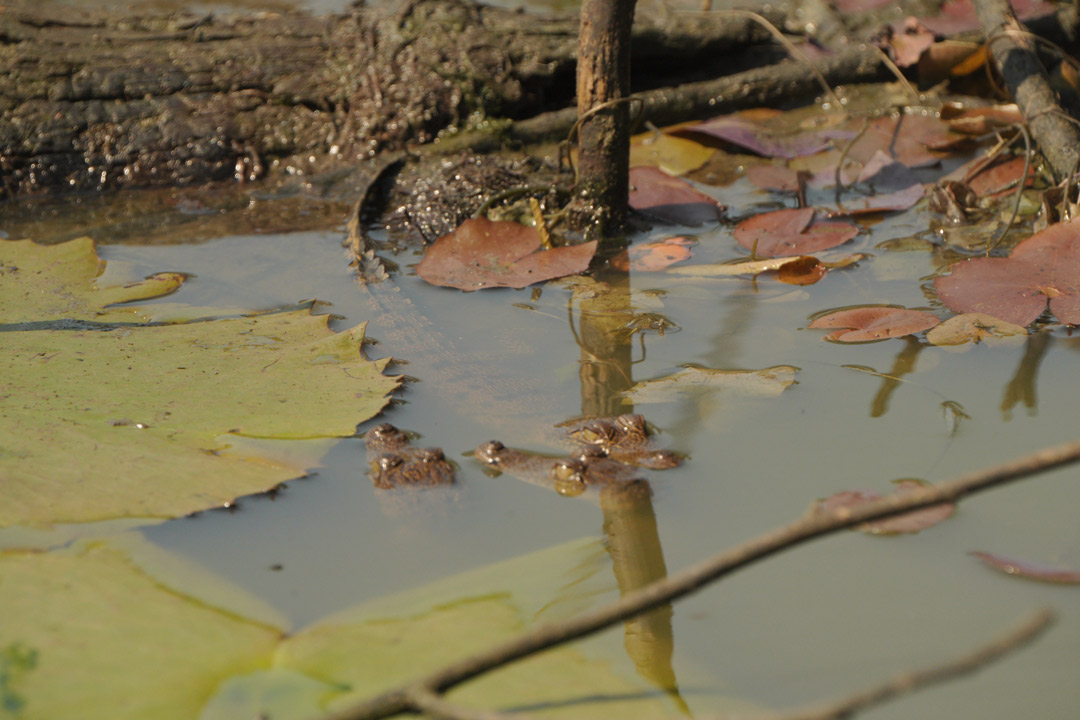 PNLT Savanna 13, Crocodylus moreletii young. The photo was taked with a Sony camera a1, 200-600mm, 407pm, on April 1,2022
I have long time interest in crocodiles in Mayan art and mythology
Crocodiles are featured in the Popol Vuh, the most important Maya book that survived the Spanish conquest. Crocodiles are pictured in the stelae and other sculptures of Copan Ruinas, Honduras. There are several life-sized stone sculptures of 3-dimensional crocodiles at the Maya ruins of Yaxchilan, along the Rio Usumacinta (on the Chiapas, Mexico side of the border; Peten, Guatemala is on the other side). I mention the iconography of crocodiles on www.Maya-archaeology.org.
A bit of my experience with crocodiles you can read on our MayanToons.org web site.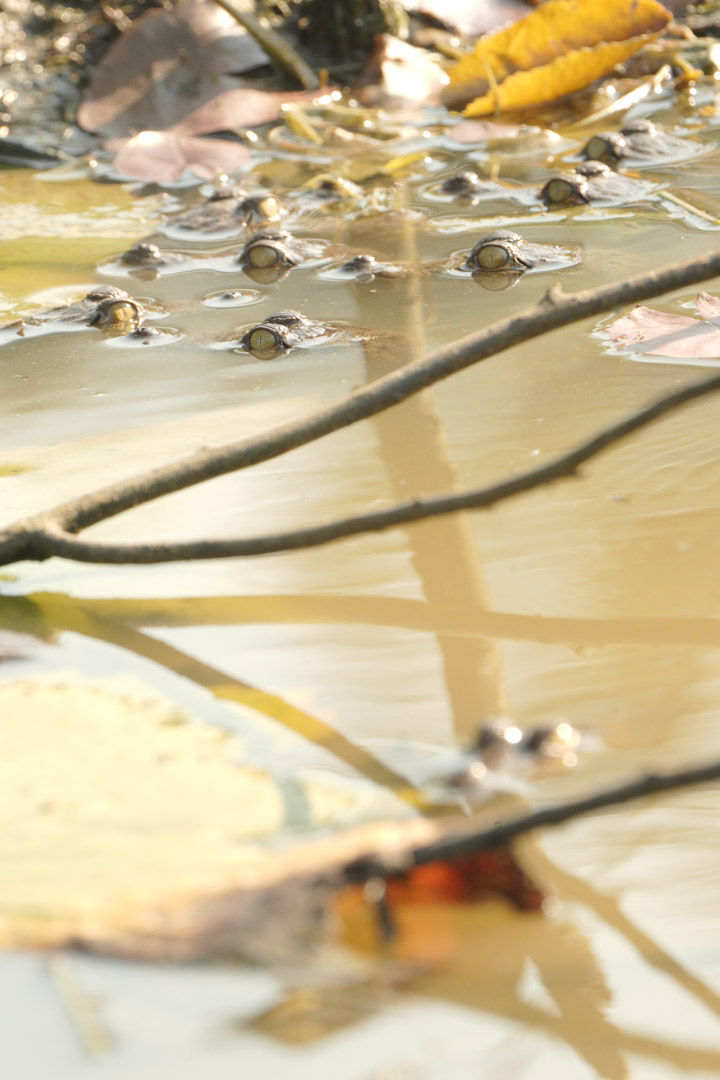 PNLT Savanna 13, Crocodylus moreletii young. The photo was taked with a Sony camera a1, 200-600mm, 407pm, on April 1,2022
Easy place to see crocodiles in Peten is Rio San Pedro, PNLT
When going from Paso Caballos to the Las Guacamayas biological research station (Estación Biológica Las Guacamayas) I saw an adult crocodile every hundred yards. In the river in front of this luxury place to stay there is a crocodile that is either on the beach or will come to say hello to you in your boat.
Almost every hotel in Peten that is along a river or lake that has crocodiles in front of the hotel. Two examples are:
Posada El Caribe, Arroyo Petexbatun, upstream from Sayaxche
Ecolodge El Sombrero, Lake Yaxha, PNYNN
Reportedly in the Lake Yaxha area of Parque Nacional Yaxha, Nakum and Naranjo there are almost 80 crocodiles but you don't see them as often as on Rio San Pedro (unless you know in what hour and what location the crocodiles at Yaxha will concentrate). But for sure, not recommended to jump into the lake for a swim.
We have photographed Morelet's crocodiles in Rio Holmul, near the ruins of Nakum, PNYNN, Peten.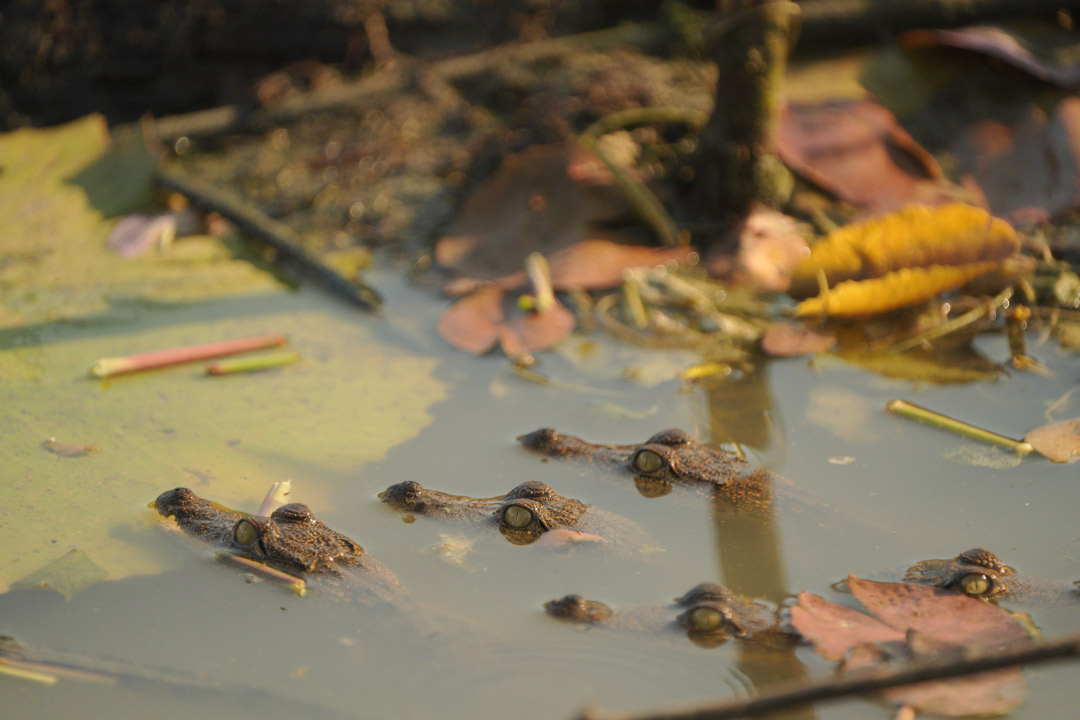 PNLT Savanna 13, Crocodylus moreletii young. The photo was taked with a Sony camera a1, 200-600mm, 407pm, on April 1,2022