Two large blood-thirsty ticks on a Bufo toad in Guatemala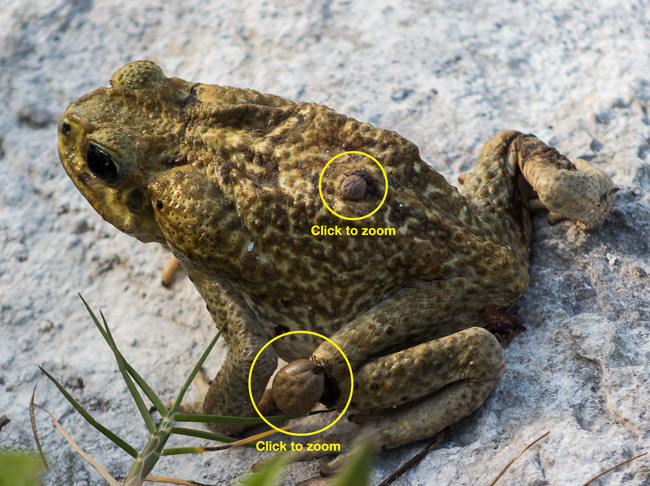 Click here to enlarge image.
Photo by Juan Pablo, Canon EOS Rebel T6, f/6.3 speed 1/130 sec,
ISO 160, lens Canon-EF75-300mm-f4-5.6.
As a child growing up in the Missouri Ozarks, me and my brothers and sister had fun finding all the giant engorged ticks on the family dog. We would put the ticks on the floor and stamp down hard with our shoe to see which of us could squirt blood the furthest.
Thus it was great, 70 years later (I am 74 years old now), to find the same large blood-filled ticks, this time on a Bufo species (a toad with venomous sacs).
Juan Pablo took these photos since I was in another part of Peten that day.
Fortunately no tick has survived on my legs or arms long enough to get very large. But frankly I did not know that ticks would focus on a toad: I thought they would prefer monkeys or jaguars. So today I have learned another fact about biodiversity in the Neotropical seasonally dry rain forests of Guatemala, Central America.
There are at least two species of genus Bufo in Peten: Bufo valliceps and Bufo marinus. I estimate this is Bufo valliceps.
---